Pet Friendly compared to Pets Allowed
Pet Friendly compared to Pets Allowed
Travelling with pets has become a more common trend in the Australian tourism market. It has always been popular in Europe and the USA. Many establishments are now either advertising that "Pets are Allowed" or they are "Pet Friendly", but is there any difference between these two terms?
If you intend having an overnight stay somewhere while travelling between two locations then being allowed to have your pet stay with you is most probably all you need, even if this means that they either stay in the car or are put on a leash outside your unit.
If you intend staying longer then there are many features that you should look for in a truly "Pet Friendly" location.
Fencing
If you intend taking your dog on a holiday then your dog should also have an enjoyable experience. This means that they should have space to roam around and areas that they can investigate. If you intend going out and leaving them at the unit then they shouldn't have to be tied up or locked up inside (especially since this can often lead to expensive damage being done). Look for places that have fully fenced yards.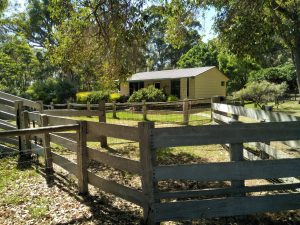 Above you have an example of dog-wire fencing. The gaps at the bottom of the fence are smaller than the gaps at the top. This type of fencing will keep in most small to medium sized dogs.
If you have a really small dog or a jumper then the pool style fencing, below,  is more appropriate.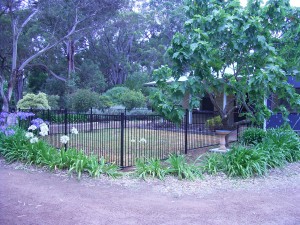 Undercover Areas
If yours is an outside dog or you would like to leave your dog outside when you go out, then you need to enquire about under cover areas that will protect your pet from the sun or the rain.  Is the area appropriate to be able to set up a dog bed, food bowl and water station.
Again you do not want to tie up your pet for long periods of time and take the risk that they might wrap their lead around a pole or furniture and not be able to move.
Allowed Inside
Many people like to have their pets inside the unit with them. Virtually all dogs are shedding hair continuously so to make it easier to keep accommodation units clean it is best to have tiled floors. All guests, whether they own pets or not, are entitled to enter a clean fresh room room that is free of dust and hair.
To help the accommodation provider and yourself, avoid placing pillows or towels on the floor where they will attract dog hair. A nice white pillow case or towel is not appealing if it is scattered with hair.
Ensure that your pet doesn't jump onto the furniture or bed. As owners of Pet Friendly accommodation we are always amazed when we see that people have allowed their dog onto the bed. Dog hair is a very difficult item to remove from sheets, blankets and doonas. You often need to do additional washing or dry cleaning to remove the hair, which adds additional costs to your stay.
We clearly state in our pet policy that you could be charged for any additional cleaning that was required above the normal clean. The enjoyment of having your pet stay with you can be soured when you see an extra charge on your credit card for cleaning.
If it is not specifically stated on their website or in the booking confirmation, you may need to enquire as to whether you are allowed to have your pet inside the unit.
Proximity of other guests
Most dogs are very protective of their owners and their property. If your dog like to stand on guard and defend the property it is most probably good to look for an establishment that only has one of two units that are well spaced apart. If the units are too close to other people or neighbours then you may find your dog barking all the time which is not pleasant for anyone.
If neighbours complain to the shire about the constant noise of dogs barking then the shire will remove any license that the establishment may have and everyone will have one less place to go and stay while on holidays.
Behaviour of Your Pet
Being able to take your pet on a holiday with you should be looked on as a joy and a privilege, it should not be treated as a way of avoiding the problems of finding someone to look after your pet while you are away.
Take time when you first arrive to acclimatise your pet to its new surroundings, set up its bed and water bowl. If there is a walking area, take your dog for a walk so that your pet gets a feel for its new home and settles down from the long drive.
Your dog will be very anxious when you leave it at the unit so try not to go away for too long the first time you leave.
Try to bring toys that you dog likes so that they have something to play with while you are away.
When a dog is lonely they often get mischievous  and start digging up the gardens, eating the reticulation and chewing on furniture. You are responsible for any damage and the accommodation owners are within their rights to charge you extra for the damage caused by your pet.
You know whether your dog barks continuously when you go away. Please look for alternatives to leaving your dog at the unit if you know it is going to bark constantly.
Exercise Areas
Although pets may be allowed, this may not mean that your pet is free to roam around everywhere. Your pet may be required to be on a lead at all times.
Check to see if there are walk trails nearby that you can take your pet for a walk on. Does your intended accommodation have an exercise area that is safe for your pet and other guests?